I Hate Deer
If you roll up to my farm nowadays it looks like we are home to thirty or so horses and a flock of deer.
They even stay in the paddocks to graze like horses. Sometimes they're in Runkle's field! His field borders the woods so I see them hop through the fence and mingle with them eating all the grass.
Can someone please explain to me why the deer are okay in the field with him but the second I am on him they are bloodthirsty murderers?
Normal deer.
Deer while Runkle is under saddle.
Last weekend at the in-house show Runkle was well on his way to losing his cookies. But the nail in the coffin was our flock of deer running across the farmer's field next door, more than a half mile away. No one noticed them
except for Runkle
. He saw them before I did even, so it's not like I'm anticipating it.
Yesterday I had a jump lesson (OUTSIDE!! AFTER WORK!! IN THE DAYLIGHT!!) and the deer were back. Runkle saw them but didn't seem super fussed. He was bug eyed but he had more of an issue with the fact that they made an enormous ruckus getting through the fence to get away from us.
The jump lesson continued without any deer-related hitches but plenty of Megan-not-keeping-her-shoulders-back and Runkle's-stuck-at-the-poll issues. Three quarters of the way through the lesson a couple of the deer were back hanging out on the grass behind the jump field.
I thought horses were supposed to have good eyesight. Runkle didn't see them until soooo late, if they were lions he'd be dead. I guess Thoroughbreds arent known for their survival skills. But he stopped so suddenly I almost kept going right off his back, and then he did his run sideways thing that I'm going to patent soon. If we ever got to the 4* level the canter halfpass would be no issue, he does it at the gallop. He's got tremendous reach.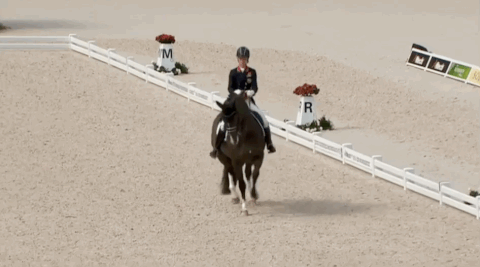 He finally got over it and we finished the lesson. Or more like, I decided to get my balls out of my purse and get over it. After I did the exercise (while the deer looked on, and then noisily climbed through the fence) my trainer said "Wow, you really dug deep there and got over that". At which point I informed her that I had trouble sitting in the turns because my butthole was so tight.
So can someone please explain to me why horses can graze in a field full of deer but why they lose their rag when a person is on their back?? Or is Runkle just a dumb baby TB?? Or both.