Winter Homework 2019
I haven't really addressed my goals since truly ages ago,
back in May
. I had four main goals that were completed, in my opinion, with success:
Work on my damn hands

- I think about my hands every single time I ride now. Maybe it'll be the only thing I work on this year, maybe it'll be the only thing I work on ever again as it's my biggest issue and the thing Spicy tattles on me for the most. If my hands are moving, his head is unsteady and his tail is usually lashing around like an angry cat. Still hands results in interest in the contact and a quieter mouth on Spicy's part.
Check those elbows bending!!!!
Sell my trailer

- SOLD! And I got a new trailer. It's awesome. I'm so happy and less stressed.
Love my new ride <3
Take more frequent dressage lessons - I'm giving myself a medium on this. When I wrote this goal I had imagined two dressage lessons a month and holy crap are we miles off the mark on that one. However, Spicy had some back issues that needed to be dealt with first. We had a great lesson where we worked on the right lead a lot which is very difficult for him. After that lesson I suddenly had a very stabby, cranky horse. I gave him a lot of time off, Bute, and long slow bareback rides. It helped that it was about ten thousand degrees out and not super conducive to serious schooling.

In conjunction, I started to get him into a more regular body work schedule. After one session with the chiropractor/acupuncturist I noticed a huge difference in his evenness behind and a decrease in Oscar-the-Grouch-itis. During this month or so of downtime we also transitioned to barefoot. Towards the end of the summer the heat broke, and we began ramping back up on the work. We went to the long lining clinic and started to get back on track. He no longer has trouble with the right lead and his symmetry scores on the Equisense have vastly improved.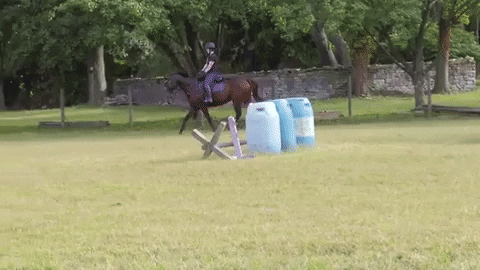 The cutest little canter transition
Get thee to a schooling show - Scrapping this, and actually scrapping my ESDCTA championship goal I set for myself in the beginning of the year. I won't lie... I haven't been working towards this goal for awhile. It's not that I don't want to do that goal ever, I totally do. It's just not something I get excited about. When I think about working through things, my true motivator is to ship out for jump lessons. Most of my goals late summer got reoriented towards that. I thought about what we needed to accomplish that and built a pyramid of the skills we would need. The progress on those goals is tremendous, and I can't wait until we can start jumping.

Now, neck deep in fall, the days are getting shorter and more brisk, and school is limiting my time even more. I'm not worried about our progress though, we have plenty to work on that won't be limited by the dark.
Stand at the mounting block into infinity. He stands to let me get on, but he is so goddamn annoying as soon as my leg is over though. In a perfect world, I'd have some kind of command where he'd stand frozen until I gave him the okay to move.
Long line once a week. I haven't long lined at home since the clinic, partially because I'm a little afraid of ruining how good Richard was with it. Too bad for me, the only way to learn is to make mistakes so time to get back on that horse! Not literally. Literally, I will be on the ground.
Actual liberty work. Most of the ground work I do with Spicy is on a lunge line. He responds well to verbal and visual clues, but I still rely on the lunge to get his attention. I'd like to get him to the point where we do our 'check in warm up' completely off the line.
Start working through some grids. I want to start freakin' jumping this horse!!! I'M READY. Time to get out my Jimmy Wofford grid book again.