Nerd Alert: Does Stadium Even Matter?
Earlier this year,
Equiratings
posed a very interesting question about scoring in three-day eventing:
does stadium matter
? I really wanted to know the answer to this question but the article left something to be desired, for me at least.
The article is not wrong; when looking at the winner, stadium definitely plays a statistically significant part. However, I think what most people imagine when they think of scoring is the large jumps up and down the board at the end of cross country. Maybe your horse isn't strongest at dressage, however if they can gallop the snot out of a big course you can still have a shot a top ten finish even if your dressage is decidedly
not
top ten.
Usually last after dressage...
Still managed a top six finish (and lots of seconds!) at almost every event we went to.
In that sense, stadium is
not
influential. A great stadium round isn't going to make up for a bad cross country or dressage. While a rail might knock you from the top spot if the scores are particularly tight, in recent memory many competitors had at least a rail in hand going into stadium (
Badminton 2019 not withstanding, which was by far THE most exciting finish to a 4* 5* I can ever remember
).
I compared Top Ten and Non-Top Ten finishes for the scores I was examining* (dataset graciously provided by
Emma
#nerdwithfriends) to see if it was my imagination, or if stadium did not in fact play a huge impact moving people large jumps up and down the final board.
So, yanno. I made some graphs.
For those of you not familiar, these are box and whisker plots. They show the average and any outliers for the scores. The dark line somewhere near the center of the box is the average. For dressage and cross country, the dark line is not the same between Top Ten and Non-Top Ten finishes. However, for the stadium scores you can see they are almost identical. A cursory analysis of variance confirms what is visible in the charts: the difference between average stadium scores in top ten and non-top ten finishes is
not statistically significant
.
What does this mean in plain English? It means on average that if you finish in 45th, your average show jumping penalties would be
the same
as someone finishing in 5th. The same is not to be said for cross country and dressage.
You can see a real life application of this in the final scores for the 2019 Kentucky Three Day:
There was very little shuffling of the leaderboard once cross country day was over. Most of those in the top ten on Sunday were already there on Saturday, with the exception of Leslie Law.
As with any analytics question, once you've proved or disproved something the question becomes "now what?" Or sometimes, "who cares?"
The 'who cares' would be, do we care? What is stadium's purpose in three day eventing? Is it an afterthought or should it have equal weight as its two siblings? The 'now what' would be dependent on the answer to that question. If stadium is just meant to separate first place from second, then it is already accomplishing that. But if we want it to level the playing field even more, we'd have to change
something
.
Which, of course, I have some ideas about. But what do you think??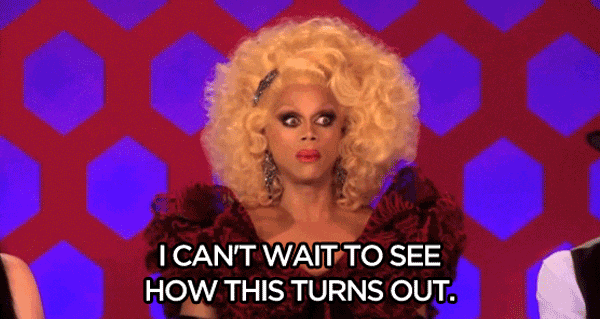 In another life this blog would be called Drag Queens and Data
and it would just be me analyzing things and explaining them with RuPaul gifs
*Data background and caveats: the data was pulled from EventEntries.com. Live scoring for 25 international events in 2018 in the US were used. The size of each class was not standardized which could effect how many are in top ten/non top ten for each class. The sample size for the long format higher level events is not credible and more data should be collected. These analyses were conducted only on finishers, and no account was taken for eliminations at this time. I'm working on a way to work in eliminations. Any time I post anything about analytics I am 150% open to feedback, ideas and collaboration. Thanks again Emma for collecting and scrubbing the numbers used in this analysis!