2017 Year In Review
I don't really want to write a year in review. I was just going to post this GIF: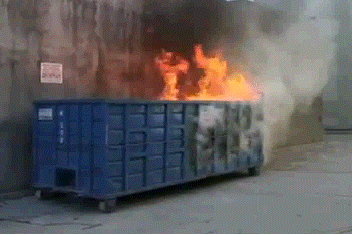 And a punch in the gut. Happy new year.
But I guess it wasn't a total dumpster fire. So many good things happen to me this year and when I look back, I choose to remember those. Not the accident, not the disaster of moving. I think about how I have a home with the love of my life. I think about Indy. I think about one of my closest friends getting married. This year was as good as it was bad.
Runkle dying was terrible. I can't even come up with a metaphor for it because it is the metaphor; it's as bad as your horse dying.
In the numbness of the 'after' something else gave me hope.
It was all of you.
The outpouring of support I received didn't stop with my closest family and friends. My barn family came through like no other barn family ever has for me. People who I had never hugged in real life sent me love. I got calls and emails, text messages and pings on Facebook. I got flowers. My vet made a donation to an equine research hospital in Runkle's name. I got beautiful works of art. A donation was made to New Vocations in memory of him.
A good friend set me up with this tall goof, and believed in us.
I got kind words, thoughts, and prayers. I felt them.
I'm so lucky to have these things in my life. They should never be taken for granted. And maybe it's the chaos and pain of having a bad year that made me realize how lucky I am, and how good I have it even when I feel like it's all falling apart.
So thank you for thinking of me this year. Thank you so much for reading. You've made a difference in my life, and I hope I have (and can continue) to do the same for you.