Four Inventions I Wish We Had
This week I was counting pills into plastic baggies for not the first (and definitely not the last) time and I wished there was a better way to do it. I get that horses are big animals and need huge doses but can we work on getting pills in horse sized doses? Or some other way to simplify things so I'm not standing there at nine o'clock at night on a Tuesday counting out bags of pills.
The more I thought about it the more I realized I do a lot of things that could easily be simplified by modern technology. It's 2018. We live in an email, SmartPak world. So here are four inventions I wish the horse world had. They'd save me time and money. Well... maybe just time.
Pill Counter
If we can't have 1 pill = 1 dose of whatever for Indy, then I want a pill counter. I imagine it'd look like a pill box and coin counter had a baby. I put a bucket of pills in, tell the counter how many pills in each dose and the counter does the rest!
One night I was bagging sucralfate for Indy on the couch with the dog and my girlfriend. It took most of Apollo 13 to finish all the pills and by the end my hands were covered in dust and I took a step back and realized this is my life, and it's weird and perfect.
Amazon Dash For Horse Things
There are tons of Amazon Dash buttons. Did you know they have one for condoms? I don't want to meet the person who has the Trojan Dash button. I wish there was some way to link these to things I actually run out of constantly without realizing it. Some ideas:
Your maintenance pill of choice (Previcox for me, since omg I always used to run out of that. Always.)
Vetwrap
Ductape
First Aid supplies (right now? 4x4 gauze squares)
Sharp clipper blades
Horse treats
Your imagination is the limit. I ran out of horse treats for weeks and took to feeding Indy bits of my snack with mixed results.
Automatic Wrap Roller
I'm more lazy than that. I want to hook my wrap to something, push a button, and watch it shoot up into a perfect roll. Bonus points if it also removes excess dirt/hair before rolling.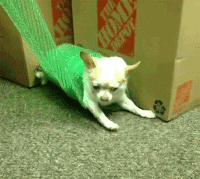 Wheeled Poles
I don't know what the rules are at your facility, but at most big boarding barns they frown upon poles and half set up jumps being left laying around. It gets in the way of lessons and prevents the arenas from getting drug.
I love using trot poles but hate putting them away. Sometimes I'll spend almost half the amount of time I spend riding putting them up or taking them down. My favorite is when I have every intention of doing them but then Indy has other ideas for what we should work on that day so I get to drag poles around for no reason.
That's why I suggest little wheels on one end of the pole and a pull string on the other so that I can drag the poles around without getting splinters or wrecking my back.
wait... why dont we use these as jump standards????
What's something you wish you had? Laziness is the mother of invention. Go forth and be lazy!!